Platinum, Palladium, Rhodium Refining System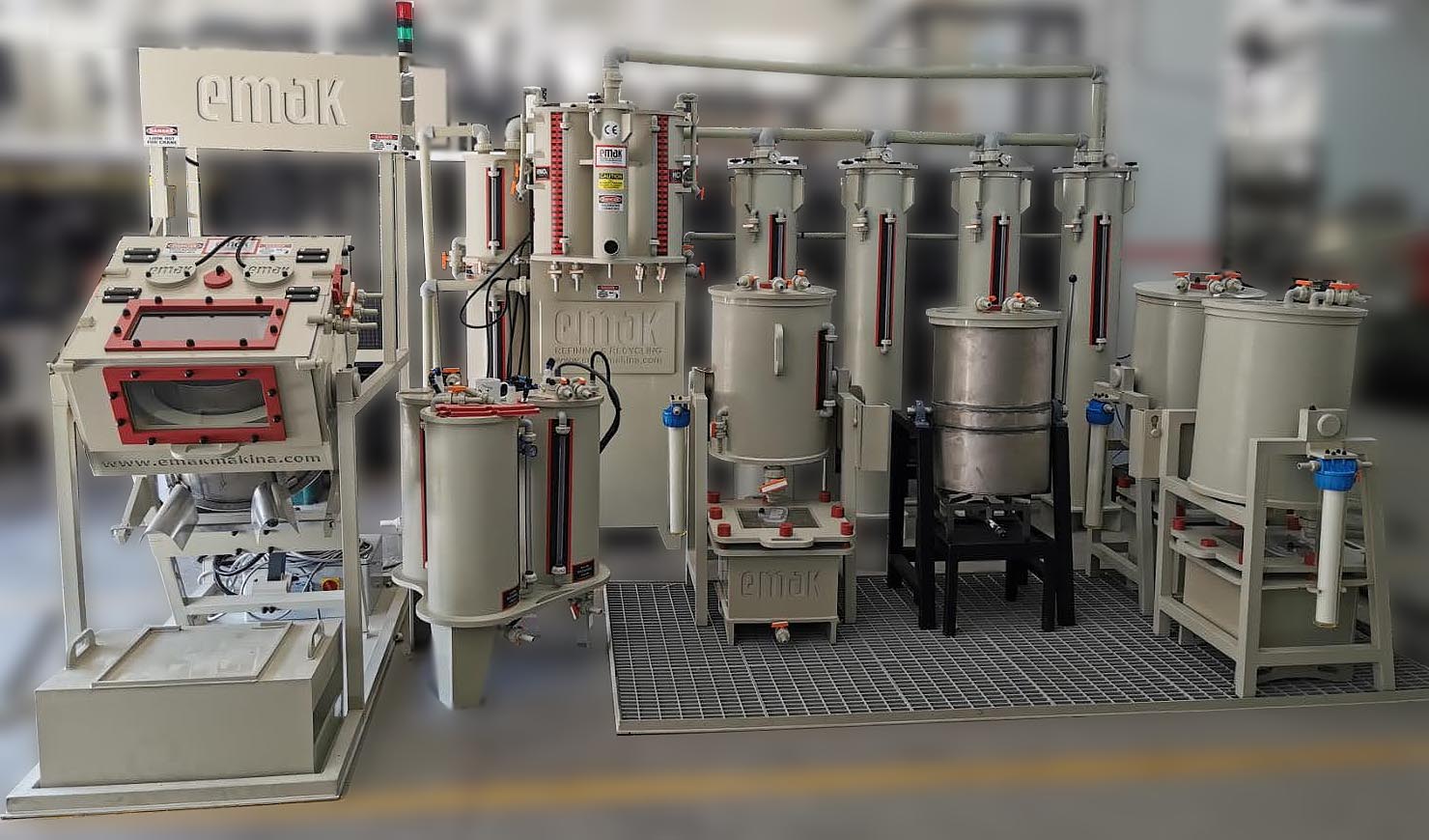 Platinum: Renowned for its resistance to wear and tarnish, Platinum is used in electrical contacts (found in several electronic applications), jewelry (White-gold, low carat gold), corrosion-resistance apparatus (like aviation industry waste), and as a catalyst.

Palladium: This metal is mostly utilized in the automobile industry for exhaust gas control. Other applications include jewelry, dentistry, watchmaking, and in the production of certain electronic components.

Rhodium: Predominately employed for its reflective properties in items like mirrors, Rhodium is also used as catalysts and in the automotive industry.

Experience maximum yield with minimum effort. Introducing the PGM Refining Machine, your comprehensive solution to efficiently recover Precious Group Metals (PGM) with remarkable purity levels.
Features;
With the PGM Refining Machine;
Multi-Source Recovery: Ability to recuperate PGM from different sources, providing a versatile recovery solution. The source can be jewelry waste (polishing dust, filings etc.) or scrap jewelry. Or it can be sourced from previous industrial applications.
In-house Refining Process: No need to outsource. Experience a refined, in-house process that provides unparalleled results.
Scalability: Whether small or large-scale operations, the PGM Refining Machine adapts, ensuring consistent high-quality output.
Platinum Palladium Refining Machine:
Cost Savings: Cut down on your expenses without compromising your output.
Safety: While providing the purest output, during all operations safety is the first reason why the Emak Refining Systems should be used.
Heavy Duty Fume Scrubbers: The scrubber type used is the strongest with a safety error margin for the stronger reactions during Refining.
Time Savings: Faster process means more productivity, saving you precious time.
High Purity PGM Extraction: Consistently achieve high purity levels in platinum, palladium and rhodium extraction.
Set Content: Fume Scrubbers, Sedimentation Cells, Vacuum Transfer, Chiller.
TECHNICAL DETAILS OF PGM15
Platinum, Palladium, Rhodium Refining System
---
| | |
| --- | --- |
| Condition | New |
| Type | Platinum, Palladium, Rhodium Refining Machine |
| Production Capacity | 15kg Input |
| Place of Origin | Turkey |
| Brand Name | Emak Refining & Recycling |
| Model Number | PGM15 |
| Voltage | 380 Volts |
| Power(W) – Energy Cons | 9 kW |
| Dimension(L*W*H) | 500 cm x 300 cm x 250 cm(h) |
| Weight | 930kg |
| Certification | ISO & CE |
| Warranty | One year |
| After-sales Service Provided | Engineers available to service machinery overseas |
| Material | Anticorrosive PP(Polypropylene) |
| Reactor Material | Titanium |